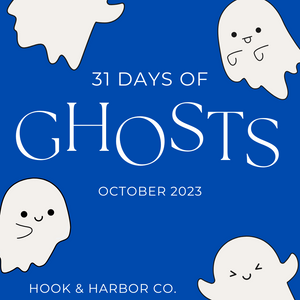 31 Days of Ghosts Stitch Chart
Join us for 31 Days of Ghosts in October!
To join our stitch-a-long, you will need to purchase our Stitch Chart. Be sure that your email is correctly entered when purchasing the chart, as this is how each day's chart will be sent to you during the month of October. The 31 Days of Ghosts Stitch Chart will be available for purchase from now until October 1st. We are offering a special price for everyone who preorders the chart. Prior to October 1st, the chart will be priced at $15. After October 1st, the chart will increase to $25. (The chart will ultimately include our basic ghost chart along with 31 separate variation charts.)
When you first purchase the chart, you will receive our basic ghost chart and our basic stitch chart outline with all the information you need to get started. Each day during October, you will receive an updated PDF with that day's chart variation. 
You can also order our basic Ghost Canvas. It is isn't necessary to purchase the canvas, but it will make it even easier to stitch-a-long with us!