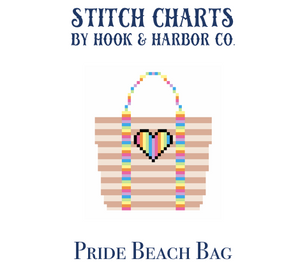 Pride Beach Bag Stitch Chart
This chart is being offered to shop customers for free, but we encourage you to make a donation to The Trevor Project  if you are able to! 
Digital PDF Download includes:
- design chart
- paint & thread suggestions for the design
- painting & stitching tips to get you started
This listing does NOT include any canvas or threads. You will receive an email after purchase with a PDF download. 
**Please make sure that your email address is correct at checkout**
You can purchase blank needlepoint canvas here!
6 x 6 inch canvas is recommended
Please note - these charts are for personal use ONLY.
*ALL DESIGNS & CONTENT ARE THE PROPERTY OF HOOK & HARBOR CO. LLC. YOU MAY NOT DISTRIBUTE THIS CONTENT OR SELL ITEMS BASED ON THIS CONTENT*