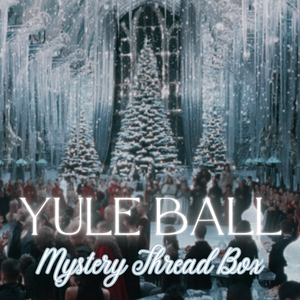 Yule Ball Mystery Thread Box
It's been a crazy year, but one of the biggest events of the Triwizard Tournament is coming up - the Yule Ball! Everyone is eagerly awaiting the chance to show off their formal robes and dance moves.
When you finally enter the Great Hall for the Ball, you cannot believe how beautifully it has been decorated! The bewitched snow is falling above you, there is a huge spread of festive food and drinks, the band is just getting started, and you know this will be a magical night...

For this mystery thread box, you have the option to purchase 5 or 10 skeins of thread. We are dyeing up our 100% merino wool thread for this box. We love this thread base because of how well is takes the dye - colors are super bright and saturated compared to our silk base. The colors will be a mystery so that you'll have a fun surprise to discover when you open the threads. Each color will be inspired by the Yule Ball and it's attendants! 
SHIP DATE: Thread Boxes will ship during the first week of December 
  Thread Info:
- each skein is about 10g (about 43 yards) 
- 100% merino wool
- suitable for both 13 & 18 mesh
- you will receive 5 or 10 colorful skeins inspired by the Yule Ball 
Please note - these colors will be one-of-a-kind and never dyed again. If you want to use them for larger projects, we suggest ordering more than one.