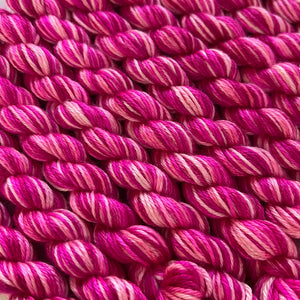 Hi Barbie! - Hand-dyed Thread
You have a choice of 3 different thread bases:
- 100% Silk
- 50% Silk, 50% Merino Wool

- 100% Merino Wool
Each skein is about 10g - 43 yards
Suitable for both 13 and 18 mesh
***The skeins of 100% Merino wool will look slightly different than the other two thread bases because of the way they get wound up - but they have all been dyed exactly the same and will produce the same effect when stitched***
Please note - every effort has been made to provide an accurate color photo of the thread. However, colors may vary on devices.